New! 12 Road Numbers of 2 Popular Bethlehem 3737 Hopper MP Paint Schemes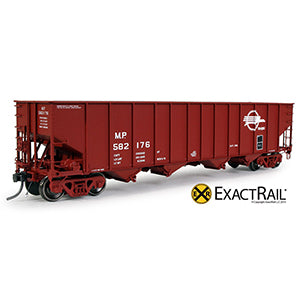 Announced on October 7th 2017 at the Missouri Pacific Historical Society Convention!
We are pleased to announce new road numbers are available on 2 popular paint schemes of our Bethlehem 3737 hopper!
With over 10,000 units produced, this is one of the most prolific, Western steel hoppers of last 40 years. The first Bethlehem 3737 delivery went to the Chicago & Eastern Illinois in 1973, and subsequent orders went to the Texas & Pacific, Missouri Pacific and Chicago & North Western. These are still in service as of 2014, and many have been rebuilt into 4000 capacity cars."
Various paint schemes and Undecorated Kits!




• Unparalleled attention to letter accuracy and placement.




• ExactRail's equalized 100 ton ASF Ride Control Trucks




• Machined metal wheel sets and axles




• Kadee ® #158 "scale" couplers




• Narrow-style draft box, featuring: key detail, shank wedges, striker castings and full nut and bolt detail




• Accurate Bethlehem 3737 details, including:




   - Single door Wine locks




   - 4' 10.5" vertical brake lever




   - Welded top chord gussets




   - Sub center sill brake rod




   - Etched metal slake adjustor guard




   - Interior braces




   - Interior wheel well panels




   - Floor mounted air reservoir




• Wire coupler cut levers, grab irons, brake rods and lever hangers!




• 2 Load Styles included with each hopper!
Click the Images below to Buy yours!
BETHLEHEM 3737 HOPPER - MP - AS DELIVERED 582000-582499 - 5/79 - 6 New Numbers!
BETHLEHEM 3737 HOPPER - MP - AS DELIVERED 582000-582499 - 6/79 - 6 New Numbers!
Leave a comment
Comments will be approved before showing up.