Truck Side Frames Stencils in 1/87" scale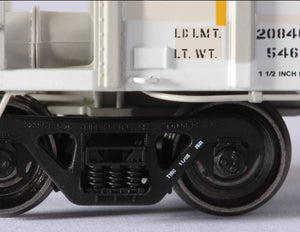 Have you noticed reporting marks or other stencils on truck side frames?
Stencils of this kind are common to contemporary freight cars. ExactRail introduced stencils to truck side frames with our HO scale release of the Trinity 64' TRINCool Reefer. With our Magor (pronounced MAY-gor) 4750 Covered Hopper, we have replicated these stencils anew on the contemporary repaint versions of this model.
Giving attention to the small lettering on truck side frames is another example of how ExactRail is closing the gap between the prototype and models. Of course, we do this to provide our customers with the most authentic models. We hope you enjoy the results.