ExactRail Product not Shipping for a few Days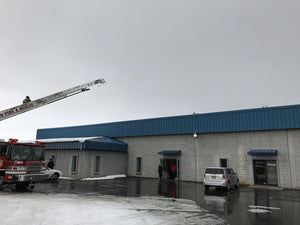 ExactRail has it's offices and warehouse in a portion of a building shared by another tenant. Unfortunately on the morning of 1.4.2017 the roof of the neighboring tenants suite collapsed.
The Good News: No one was hurt in the collapse and the roof above the ExactRail suite is a different structure from that of our neighbors so aside from a bit of water coming into our space from their fire suppression system there has been no damage to any of the inventory or equipment in the ExactRail space.
The Bad News: Because of the level of damage sustained to the building both the power and gas has been shut off to our offices. This means that orders cannot be shipped for the time being.
We expect all of these issues to be resolved in the next few days and will get ALL orders shipped out ASAP.  We apologize for any inconvenience this may cause and thank you for your patience. Our employees will be working from different locations so we appreciate your understanding if we are a little slower to respond than usual.
Please continue to buy with confidence. Our inventory is in perfect shape and once we have access to the building again we will start shipping orders quickly!
Thank you for being the greatest customers and fans on earth!
The ExactRail Team
18 Responses
Leave a comment
Comments will be approved before showing up.