Does this look familiar to you?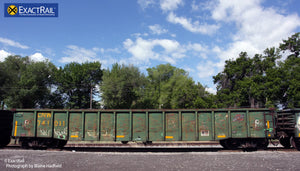 On May 29, 2013, CNW gondola #741011 was delivered to Pleasant Grove, Utah. This was of interest to us, because in December 2011, ExactRail released a model of this exact number, CNW 741011, when we released the Thrall 2244 Gondola!
Thrall's heavy top-chord, 15-panel 2244 gondolas are a relatively unique prototype. Rock Island and Detroit, Toledo & Ironton were the only original owners of 2244 gondola with these unique variations.  These cars were later parted out to the CNW, Conrail, Union Pacific and South Shore railroads.  The CNW received these cars from the Rock, and they were repainted into the North Western's Clinton Green scheme in 1987.
We photographed the interior of the car for those of you who would like a photo reference for weathering.  Have you ever seen a gondola with such a clean interior?
Click HERE to see the Model
Happy Railroading!