SP Caboose, Modena UT Drybrush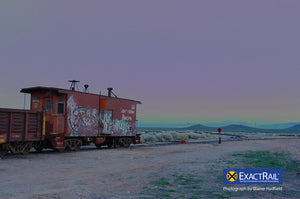 While returning from the Western Prototype Modelers Meet in April 2013, we had the opportunity to visit various railroad locales along the way.
In the picture above, Southern Pacific C-50-9 caboose #4742 and a short cut of Maintenance of Way equipment occupy the wye at Modena, Utah on April 14, 2013. Isolated and remote, Modena is in the western reaches of the great Escalante desert. Few travel the bi-way that brings one to this desolate place, and very few call Modena home.
That said, Modena has a few, very attractive period structures; it also has a Harriman-style water tank. One of only two left on Union Pacific's Los Angeles and Salt Lake system!
Happy Railroading!