Show Product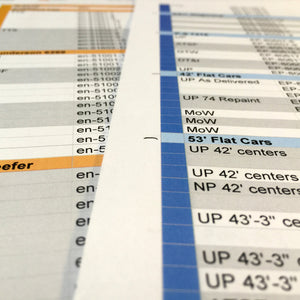 One of my many responsibilities at ExactRail is to plan which products we bring to sell at shows. I try to bring what I hope will be the best fit for the show that we are attending. Sometimes I felt that I couldn't have done better with the selections and then there have been times that I missed the mark.


During my initial preparations for a show, the first items I add to my list are products that we have most recently released. Next I look at the region that the show is located and make selections of freight cars and paint schemes that are appropriate. Not everyone attending a show wants products from that region. For example, at the last show we attended in Springfield, Massachusetts we had multiple customers come into our booth looking for Western Pacific items.

When I have the list of products, I then need to decide on the quantities. Shows that we have attended in the past are a little easier to know based on past sales. When we attend a show for the first time it can be a little more difficult.

The last step is to pull, package and ship the product out to the show location.

If there is a specific item that we have in stock that you would like to purchase at a show that we will be attending, please send an email to me and I will make sure I have it for you.

Happy Railroading,

Chris Brimley
cbrimley@exactrail.com
9 Responses
Leave a comment
Comments will be approved before showing up.