Provo Yard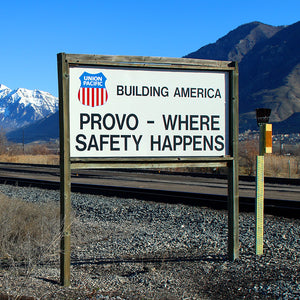 ExactRail is located just a stone's throw from the local yard in Provo, Utah.  As you may have guessed, visits to the yard happen at a minimum of once per day.  The visits to the yard have been very beneficial to many items that we have produced.  Some paint schemes would simply not have happened without them.
I have visited many yards across the country and still to this day it is one of my favorites.  I wouldn't call it a large or a very busy yard, but it has always remained interesting.
Blaine and I both grew up in the area and both visited the yard as often as we could in our youth.  We often reminisce about the days that are now gone.  One of my first memories of the yard was when I was about 5 years old.  I was waiting for my uncle to arrive on the Amtrak California Zephyr at the now gone Provo Station.  While waiting for the train to arrive, one Rio Grande freight after the other would fly by at track speed.  The sight and sound of them terrified me, but at the same time fascinated me.  The memories of that night will never be forgotten.
The Provo yard is actually made up of three yards running more or less parallel to each other.  The easternmost is the former Denver & Rio Grande Western yard that Union Pacific now primarily uses for freight car storage and the occasional coal train to briefly tie up in.  Tucked in the middle you will find the Utah Railway.  Although it is a Utah Railway yard, it looks more like a BNSF one.  This is because the Utah Railway handles all BNSF trackage rights trains that now come through thanks to the UP-SP merger.  Last of all you have the Union Pacific yard to the west.
I will always look back fondly on the yard of my past, but I look forward to the (hopefully) good changes to come.  
I am sure that like me, many of you have a railroad location or a moment that has had an impact on you.  I would love to hear about them in the comments section.
One last thing.  I want to thank the Union Pacific and Utah Railway crews for tolerating our frequent trips through the yard.
Happy Railroading,
Chris Brimley
27 Responses
Leave a comment
Comments will be approved before showing up.