Chicago & North Western Bicentennial Hopper!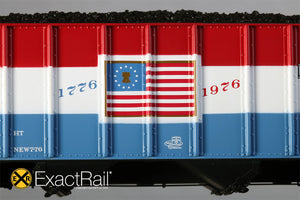 The Bicentennial era of railroading is cool.  Period.
It is a curious fact that so many railroads adopted the practice of refashioning equipment in elaborate--dare I say, garish (?)--paint schemes.  I wasn't alive in 1976.  But from the distant place of today, it is hard not to feel railroads laying claim to being "American."
And, railroads have a unique reason to celebrate America's bicentennial.  Railroads are an industry that stands apart from others in the annals of American history.  They connected resources, places and people.
And so, of course we were more than enthusiastic when the Chicago & North Western Historical Society (CNWHS) approached us about developing the bicentennial car! The CNWHS was looking for an exceptionally accurate replica for their 2016 annual convention, and we are pleased that they chose us to execute!
The CNW bicentennial will only available through the Chicago & North Western Historical Society company store and is coming soon! Please support the CNWHS as it works to preserve the history of one of America's great railroads.
The bicentennial period of railroading is cool, and I will gladly fight anyone who dares say differently. :)
Happy railroading!
9 Responses
Leave a comment
Comments will be approved before showing up.