Chasing Trains For The First Time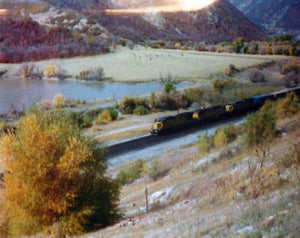 On October 6 1996, my Dad took me out on what I consider to be my first time chasing trains.  It was a Sunday and I remember it being cool out.  Armed with my sisters cheap purple camera that used #110 film cartridges, I was ready for anything.
We started the day by sitting at the former location of the Provo, UT depot.  After about a half hour of waiting the first train of my first train chasing adventure blasted by.  A Union Pacific manifest freight with a C40-8 trio pulling.  This was the first train I ever photographed.  I had no idea what I was doing but I was so excited and I didn't care.
The chase was on!  We followed the train through the cities of Springville and Spanish Fork.  We then got a little ahead of it in Spanish Fork where I took this next photo.
We continued up and over Soldier Summit, a drive I had done many times before but never with the intent of chasing trains.  Somehow the area was different now, I was at full alert.  For those of you that have made this drive, you know that highway 6 parallels the right-of-way for most of the time.  My eyes were fixed on the track, looking for anything that looked like a headlight of a train.  When I would see one, my Dad would pull over where he could and I would run out of the car and snap a few pictures.  
We went as far as Martin & Helper where I got a few photos of the Utah Railway SD40s and then the Rio Grande SD40T-2 & SD50 helper units.
On the way back home I was able to catch a few more before the day was done.  Below are photos of Southern Pacific helpers on a west bound manifest and then 3 SP AC4400CW locomotives descending at Thistle, UT. 
Throughout the rest of the day I saw and photographed many trains.  Traffic is unfortunately much lighter through there now but I will occasionally try to chase something when I have time.  After I got the film developed I spent many hours looking at the lousy photos I had taken (at the time I was quite proud).  I have been on many exciting chases but none of them will ever be as good as this Sunday in October 1996 was. 
Chris Brimley
3 Responses
Leave a comment
Comments will be approved before showing up.