Creating and Communicating Color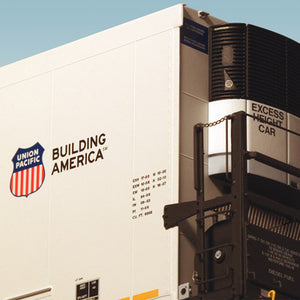 The manufacturing process requires that we communicate color to our manufacturing partner in a way that is both precise and unambiguous.
Color goes beyond just body color. In some cases, our models have over 15 different colors per car, and you may be surprised to know that the car with the most colors is the Trinity 64' TRINCool Reefer. This model has 16 unique, painted colors!  Although I haven't done an actual survey, I would be very surprised if any model train manufacturer has given more attention to matching the number of subtle variations of color on a freight car as we have to the Trinity Reefer.  (And you thought the Trinity reefer was just a big white car!)  
There are different methods for how ExactRail creates and communicates color. However, my preferred method is to create actual paint swatches. In 8 out of 10 cases, I custom mix paint samples in-house to get precise matches. This process looks exactly as you would expect: me, standing in a paint room with an airbrush in hand, mixing and spraying paint until the match is exactly as we want. It is a time consuming process.
Given that we create a lot of actual paint samples in our product development process, I want to give a complimentary shout to a company that I believe makes a great product. I use a lot of Tru-Color paint when mixing color for our swatches. It is not the only paint I use, but it is definitely one of my favorite paints to spray. Tru-Color was formed in 2008 when the principles of Tru-Color acquired and reformulated the Accupaint line of paints. Tru-Color is contributing to a segment of our industry that doesn't see a lot of new innovation, and I think that this deserves praise.  If you are not familiar with Tru-Color, I would encourage you check it out.  Tru-Color can be found at trucolorpaint.com.
12 Responses
Leave a comment
Comments will be approved before showing up.