NEW! 4 Paint schemes on the Vert-a-pac Autorack!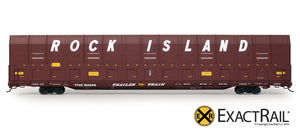 We are pleased to announce new Paint schemes and Road Numbers of our Vert-A-Pac Autorack!
Back by popular demand, ExactRail offers a limited re-release of the Vert-A-Pac in three all-new paint schemes and all-new road numbers of the Rock Island paint scheme!
Developed in the early 1970's, the Vert-A-Pac embodies the innovative spirit of the time.  Designed to transport GM H-body cars from points of manufacture to distributors all over the US, the Vert-A-Pac was innovative because vehicles were driven onto each of the Vert-A-Pac's 30 massive doors, which when raised into position, left the cars vertically suspended within.
Originally developed in cooperation between the Southern Pacific and ACF Industries, these auto carriers were on the roster of railroads across the country, and they operated into the early 80's.  Vert-A-Pacs were graced in billboard style paint schemes and often seen in large colorful blocks.  ExactRail accurately equips the Vert-A-Pac with ExactRail's all-new 70-Ton "Low Boy" Barber truck with 28" precision CNC-machined wheels.
We are pleased to offer the Vert-A-Pac Autorack in exceptionally accurate paint schemes.
Rio Grande - DRGW
Denver & Rio Grande Western (D&RGW) 1970 "As Delivered" paint scheme: Rio Grande received a first delivery of Vert-A-Pacs in June of 1970.  Both the rack and the flat car were delivered in boxcar red paint with the attractive flying Rio Grande emblem on the car side.
Available in 3 Road Numbers! Click HERE to Order: EE-1213
Merchant's Dispatch - MDT
Merchants Dispatch Transportation (MDT): In the minds of many enthusiasts, Merchants Dispatch is thought of as a refrigerator car line.  However, MDT owned Vert-A-Pacs as well, and photographs of these cars are among the most elusive of the Vert-A-Pac cars.  Eight years after the original release of ExactRail's Vert-A-Pac, we have finally assembled enough reference material to be able to offer the MDT paint scheme!   
Available in 3 Road Numbers! Click HERE to Order: EE-1214
Rock Island - RI
Rock Island(RI) 1970 "As Delivered" paint scheme:  In July of 1970, Rock Island received Vert-A-Pacs with large billboard lettering.  Our artwork was developed from extensive inspection photos taken by the Rock Island when the cars were received by the railroad.
AVAILABLE IN 3 ROAD NUMBERS! CLICK HERE TO ORDER: EE-1215
Baltimore & Ohio - B&O
Baltimore & Ohio (B&O):  Baltimore and Ohio received Vert-A-Pacs in the well-recognized 'capital dome' paint scheme.  In fact, there is a photo of a B&O Vert-A-Pac of this same scheme in Provo, Utah—only a block from where the ExactRail offices are located!  Although proof is not needed, this photo is additional evidence that any paint scheme of Vert-A-Pac could be found anywhere along Vert-A-Pacs pool routes.
AVAILABLE IN 3 ROAD NUMBERS! CLICK HERE TO ORDER: EE-1216
5 Responses
Leave a comment
Comments will be approved before showing up.